Are You Seeing This Randomized, Private Test Offer?

If you're seeing this, congratulations!

You've been privately selected for a once in a life-time test offer…
This is one time offer that will NEVER appear again…
So listen closely...
At one time, I started out probably just like you. Ready to make the world my bitch…
However, my first attempts at building a Badass Body BOMBED. I skinned my knees fell on my ass...
I wasted a boatload of time and money on things that didn't matter one bit...
I would have killed to have had something or someone to guide me. To give me direction on how to take my raw ambition and target it like a laser on what I want...
The Badass Body Blueprint Fulfils this 1000X...
That said - My experience with it and all the combined experience I have had with my ultra successful clients might not hit the spot for you...
If you think you are maybe a little different, a little special...
The Badass X-Files - Secrets of the Pros are for you...
Inside the X-Files are top secret interviews...
With past Clients, Fitness experts and all around badasses
Even some of my personal coaches...
Here's A Taste Of What You'll Discover:
INTERVIEW #1 - DRESS TO MAKE HER OBSESS CREATOR, SPENCER RYANN
INSIDE this x-rated interview you will discover...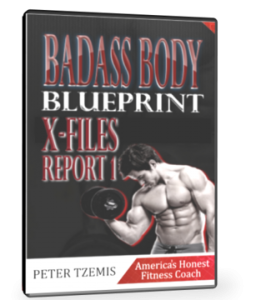 The importance of taking daily action
Why your network is your networth
How to make the CEO switch. Go from broke employee to master of your destiny. Tomorrow
The biggest Barrier when it comes to fitness transformations
INTERVIEW #2 AMERICA'S PRACTICAL NUTRITION COACH, ZACK ZELLER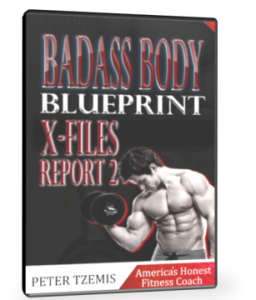 INSIDE this x-rated interview you will discover...
How 21st  food is emasculating men and what oyu can do about it
The rapid decline of testosterone in men and 3 foods to supercharge your T-Levels, starting tomorrow
How to take control of your life, destiny and career and become a millionaire before turning 25
INTERVIEW #3 AMERICA'S FAT LOSS STRENGTH COACH, RYAN SAPLAN
INSIDE this x-rated interview you will discover...
How to build your dream life, without ruining your current life
The biggest life lesson learned from being 70lbs overweight, to getting in shape and staying there
How to build a business from nothing and make it successful
The ingredients to a lasting fitness transformation
INTERVIEW #4 THE BADASS BODY BLUEPRINT FIRST GRADUATE DAN Y.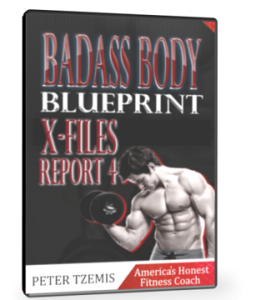 INSIDE this x-rated Interview, you'll discover...
How to juggle fitness, life, becoming a doctor and starting your own business
Why you need a coach and should do anything to get one
The power of environmental exposure and how it can 10x your business, sex, fitness and financial life over 1 weekend
How to be the best student so you can get the life changing results that you want.
If you're a man of action, this is for you.
We all know the biggest shortcut to success is finding a willing mentor who will guide you through the trenches. Here I have 4 of them.
And for only $9. Seriously, just 9 bucks and you get access to once in life time mentorship opportunities, from leading industry experts.
It really is a no brainer. Take action and invest IN YOURSELF RIGHT NOW!