Exclusive Information (Not Available Anywhere Else!)

Here's What You Should DO ALONG SIDE The Anabolic Stretching System...
Hey it's Peter and regardless of what you decided on the previous page,  you're in for a treat because right now...
I wanted to give you a chance to 10x your results As you go through the entire AS program. Most guys who go through AS have emailed me asking what the heck should they do as the workout portion as they go through the program.
How they can keep making progress or how they can maintain what they've built...
This is why I created...
The Badass Body Blueprint
This blueprint is the only system I know of designed to reignite your strength sensitivity and increase muscle building human growth hormone 290x through 48 second Radiation Sets. Allowing your body to shockingly morph into a walking badass in only 42 short days with razor sharp abs, button-popping pecs and supreme confidencethat oozes out of your pores.
Here's Just A Sample Of What You Will Discover Inside The Badass Body Blueprint...
The 1 skill every guy needs to master his metabolism and kill belly fat even if you believe you have those "big boned" genetics...
This most overlooked principle is the key to the ultimate Badass Physique. This one secret will transform your body, sex and business life forever.
If you love sex, you'll love this tip: The truth about cardio, fat loss and how they can boost or slash your master male hormone... (found on page 35)
Discover the 48s radiation set that sparks super strength for the busy guy who insists on warp speed results… without wasting a second in the gym
Finally - how to make your abs POP without thousands of crunches and so defined they rip through your shirts in the wind...
The hebbian rule: once popularized by the ancient greek olympians 2000 years ago that's key to building super strength in minimal time. (found on page 29)
The Science Behind Radiation Sets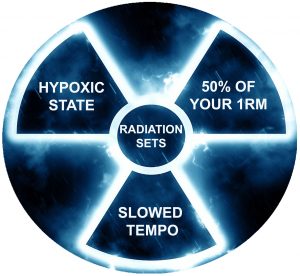 Essentially this concept is like a stone being dropped in a pool creating ripples through out. The size of the stone is dependent upon the degree of your muscular contraction.
The harder you squeeze, the bigger the stone and larger the ripples, which in turn radiate out and activate more motor units for the movement. This results in more power and is the first step to unleashing 290x MORE GH in your body after just one set.
Let's do a test. Squeeze your fist just a little bit and you will notice the contraction in your hand mostly. Now squeeze a bit harder and you will notice it running up your arm perhaps to your shoulder.
Now squeeze as hard as you possibly can you will feel your midsection, glutes and hopefully the rest of your body participating in the contraction. The whole is greater than the sum of its parts.
You will notice yourself able to create more power and open a gateway of anabolic hormones in any activity by using the 3 parts to this principle.
Order Now And Receive These 5 FREE Bonuses
Bonus 1 - The Fast Start Guide ($19 Value)
Alright, so you're just about ready to begin the program and you want to make sure you have everything lined up for success. There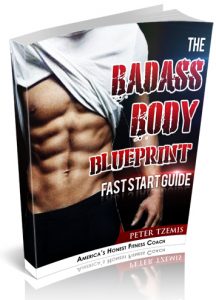 's an old saying that if you fail to plan, you can plan to fail.
Well, I've taken every step to make sure that doesn't happen to you – and I want you to do the same. To that end, I've created the Badass Body Blueprint Fast Start Guide.
It details EVERYTHING you need to ensure you have everything in place leading up to your "official" first day.
Think of it like the Cliff's Notes version of the manuals. With this, you'll be playing with cheat codes.
Bonus 2 - Badass Supplement Bible ($27 Value)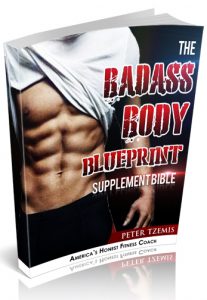 The supplement world is a vast and confusing landscape full of really bad information. Some are fantastic, and others are complete crap—knowing which is which is the hard part.
Thankfully, it's part of my job.
Let's clear up all that confusion and address the foundation supplements that are safe, effective, and legitimate.
And so in this guide, I've outlined the ones that will help you meet your goals, and give you a rundown of which to stay away from—incredibly helpful for getting results without wasting money!
Bonus 3 - The 2-Minute Testosterone Flood ($19 Value)
Testosterone is one of the most important hormones produced by the body, particularly for males. Not only is it vital to maintaining proper musculature and masculine appearance, it has myriad psychological benefits as well.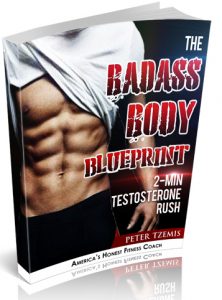 Most of you probably know that your individual testosterone levels fall as you age. But studies have shown that men today, across the population, have about 20% less testosterone than men the same age did just two decades ago. Yup, we are slowly being womanized.
In this kick ass guide, I reveal to you the 2 minute testosterone rush formula.  Backed by an elite team of Harvard researchers, This 2 minute exercise done daily can increase your Testosterone levels by up to 40% while simultaneously lowering your cortisol levels without any pills, potions, needles, or supplements…
It's one of my most well kept secrets. So use it wisely
Bonus 4 - The V-Line Abs Formula ($27 Value)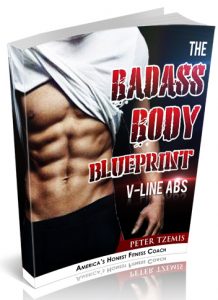 Why are V-line abs so great? Nothing really… EXCEPT that something is hardwired into women's brains that sparks uncontrollable sexual arousal when they see those lines!
So in this one-time bonus offer, I reveal the secrets to getting that V-cut. Which exercises are most effective. Diet and supplement protocols and the number 1 factor to getting V-Line Abs. Don't do this one thing, and you can kiss your V-lines goodbye.
You won't wanna miss out on this one.
Bonus 5 - A One-on-One VIP Jump-start Consultation Directly with Me ($197 Value)
I made sure to save the best for last on this one. Not only are you going to get all the bonuses provided above...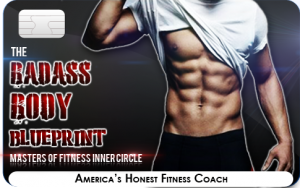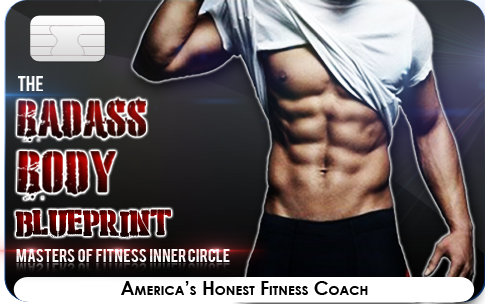 If you have any questions about anything inside the badass body blueprint or its awesome bonuses, you'll have the opportunity to get them all answered directly by me.
Not by my assistant or my team, but by me as the creator of the program, via a personal one-on-one email consultation.
This is easily the most valuable bonus I could ever offer, so I've decided to include it in this package ONLY